Description
A larger, abrasion and weather resistant containment boom that is ideal for repeated use.
• Great boom for water with light currents.
• Aluminum ASTM connectors for linking of multiple sections.
• Anchor rings at the end of the boom allow towing and anchoring.
• Ergonomic handles facilitate the linking of ASTM connectors.
• Optional Bulk Head Riser – allows boom to move up & down with the waves and tide.
• Encapsulated chain for added strength.
• PVC coated material for greater durability.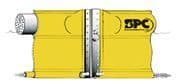 Part No.
Description
Packaging
SPCJR-1210
JUNIOR BOOM, overall height 45 cm
(15 cm Float – 30 cm Skirt)
Section of 30 m
SPCJR-1205
JUNIOR BOOM, overall height 45 cm
(15 cm Float – 30 cm Skirt)
Section of 15 m
View Product Data Sheet
GPS SPCJR-1205
GPS SPCJR-1210